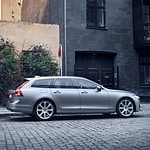 You don't always get to choose the way that your day goes, but you can at least take charge of some aspects of the safety of your vehicle. You can choose to purchase something safe and secure for you and your family. Doing so means you end up with a great purchase that you can be proud of, and that will keep you and your family safe.
The Volvo V90 is the ideal purchase for someone who wants a vehicle they can trust, and that has safety as a priority. The people who make this vehicle have done that every step of the way.
They look at the operation of the Volvo V90 as the best way to get people converted to driving a Volvo rather than some other type of vehicle all the time. This strategy has served them well and has helped propel their vehicles to a larger segment of society that wouldn't otherwise have had the chance to drive them.