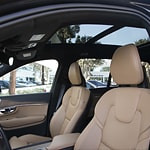 The new XC90 from Volvo is one of the most popular and innovative luxury SUVs in its class. It comes with a host of performance features that make it more than just a great investment. Find out what these features are and why they ensure you get the best ride every time.
One of its most innovative features is its collision safety system. This system can call 911 immediately after a crash. It can mean the difference between life and death if you are involved in a serious wreck.
The new Volvo XC90 also has built-in rear collision warning system that can alert you to anything behind you when you pull out of your driveway or a parking space. It lets you see what is immediately behind you. It also warns you to stop or slow down if there is another vehicle or person into which you might otherwise collide.