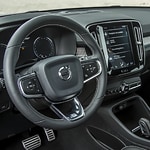 In the world of compact luxury SUVs, there are many options out there. However, there are few that can match the exciting look of the Volvo XC40 R-Design. In fact, the XC40 R-Design may soon become one of the most popular luxury compact performance SUVs in its segment.
So why is the XC40 R-Design such a popular choice? The R-Design adds unique style touches like a glossy black trim for the grille, door mirrors, side windows, and skid plates. The XC40 R-Design also adds a stone black roof finish to make this compact SUV a true stand out.
To top off the XC40 R-Design's look, you have your choice of sporty 18, 19 or 20-inch alloy wheels. These wheel's unique design complements the Volvo XC40 R-Design's overall sporty appearance.